Get Rocked with this Italian Wine Deal
The Italian Wine Shop is bringing you a fantastic deal this January. For only RM25, you get to enjoy 5 glasses of famous Italian wines. Yes, you read it right. That's RM25 to enjoy 5 brilliant glasses of the following champagne, prosecco, and wines from the famous wine making regions of Italy. You have got to ask yourself. How far would RM25 take you elsewhere?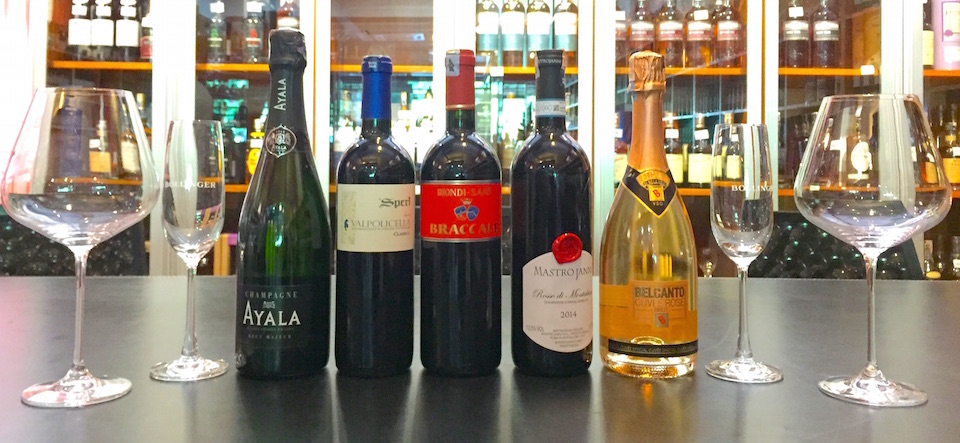 Champagne Ayala
One of the original 26 Grandes Marques Champagne Houses, Champagne Ayala has a history that dates back to 1860. The brand has enjoyed a resurgence under the stewardship of the Bollinger family which acquired Champagne Ayala in 2014.
Belcanto di Bellussi Prosecco
The Belcanto di Bellussi Prosecco has been described as being crisp, clean and refreshing with notes of minerality and lemon acidity streaking across the palate preceded by a quiet nose of crisp green apple and minerality. If you just want to know the star rating, it was rated as 4 out of 5 stars by winecurrent.com
Mastrojanni
Mastrojanni, one of the most respected Montalcino producers as far as wine buffs are concerned, has been writing history with its wines since 1975, collecting awards from all over the world.
Biondi Santi Braccale
Biondi Santi has been making wines in Italy since the 1860s and was already winning awards in 1869! So with this heritage, you can be assured that you are getting a bottle of wine steeped in a history of excellent wine making.
Speri Valpolicella
The Speri family's presence in the heart of Valpolicella goes back to 1874. Their vineyards are located in the finest districts of the Classico area and every grape that goes into their wines is estate-grown and cultivated by the Speri family with just as much pride in the craft of viticulture.
Book It
Take your trip around the wine regions of Italy at only RM25. And there's even finger food that will be served to complement the wines. (Food served is non-halal)
Limited to 2 seats per person only.
Wine tasting is available on
14 Jan at 3 pm to 5 pm
21 Jan at 3 pm to 5 pm

Fully booked! All bookings exhausted.
Address
The Italian Wine Shop
21, Jalan SS 17/56
46400 Petaling Jaya