Event type : Baby Shower, Birthday Party, Full Moon Party, Gathering, Kids Party, Lunch Party, Meet Ups, Reunions, School Outing
Get A Free Quote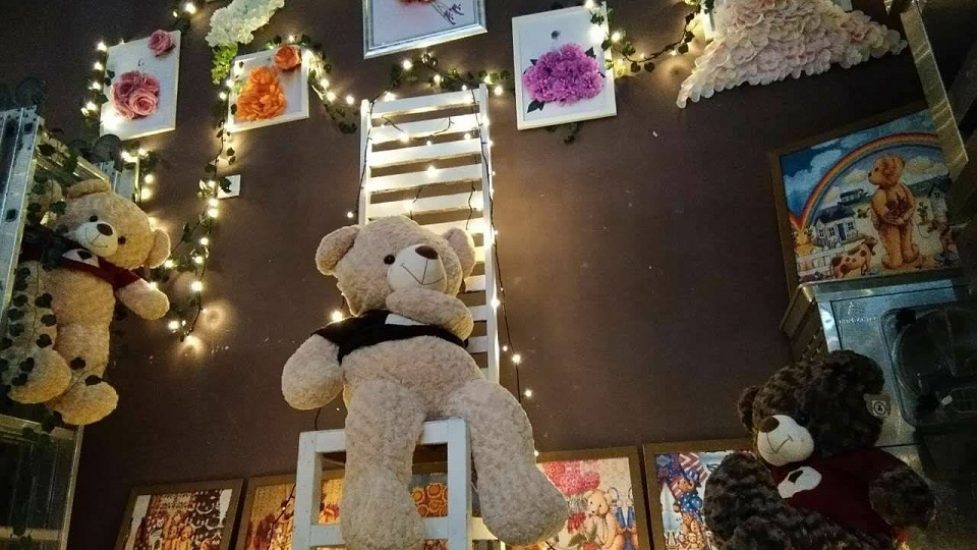 Coffee Bear Cafe Melaka
Coffee bear cafe Melaka is a unique cafe that allows customers to socialize in a comfortable and relaxing environment. They welcome their guests with cute teddy bears of many different sizes. For savoury dishes they serve dishes such as fried noodles, fried rice, mac and cheese, spaghetti, and burgers. For desserts, they have many different types of cakes at their dessert counter and they also serve unique waffles that comes in different colours and flavours. For drinks, they serve coffee with different types of bear latte art. Besides that, Coffee bear cafe Melaka also sells teddy bear merchandise such as teddy bear key chains, teddy bear snow globe and teddy bears in different colours and sizes.
Event Space
Coffee Bear Cafe Melaka brings out a warm and comfortable environment with their dimmed lighting and cute teddy bears at every corner of the cafe. Coffee Bear Cafe Melaka has a modern indie decor with their marbled furniture and bricked walls. Comfortable trendy couches with pillows and teddy bears are also available for a more cosy dining experience.
Events
Coffee Bear Cafe Melaka is a cosy event space that offers both indoor and outdoor seating. This event space is suitable for hosting a birthday party especially for kids as it is children friendly. The space is also suitable for cosy gatherings with family and friends. It can accommodate up to 60 pax.
Location
Coffee Bear Cafe Melaka is located at central Melaka. Parking spaces are available on the streets. The cafe is located at the corner lot and Hotel 707 is right opposite of it.
Address:

46, Jalan KPKS 1,
Kompleks Perniagaan Kota Syahbandar,
75200,
Melaka,
Malaysia
Get A Free Quote