Event type : Corporate Dinner, Wedding Venue
Get A Free Quote
De.Wan Banquet Hall
Click here for menu 
Please click here for date & time slot availability
No prizes for guessing who the Wan is at the De.Wan Banquet Hall. There can be only one Wan whose name brings a cheer to those who care about food. Yes, it's none other than Chef Wan! This is a banquet hall that will feature food that carries Chef Wan's intense love of South East Asian cuisine paired with ingredients that you won't expect in foods from this region. But food is not all that will stand out here, as De.Wan has been designed with elegance and technical sophistication in mind.
Dome Menu
Menu A – RM150++ per pax
(Minimum 300 pax)
Soup
– Sup Ayam Berempah Bersama Kentang / Spices Chicken Soup served with Potato
Dome
– Ayam Goreng Berempah / Deep Fried Chicken Local Spices
– Opor Daging Hijau / Beef Green Chilli Curry
– Ikan Tenggiri Lemak Cili Api / Mackerel in Bird's Eye Chilli Gravy
– Dalca Sayur / Dalca Vegetable
– Tempe Goreng Bercili / Deep Fried Fermented Bean Cake served with Chili
– Acar Rampai / Pickled Vegetables
Condiments
– Keropok Ikan & Papadam / Fish Cracker & Papadam
Rice
– Nasi Putih atau Minyak / White Rice or Ghee Rice 1.5
Sweet
– Bubur Jagung / Creamy Sweet Corn Soup
Menu B – RM220++ per pax
(Minimum 200 pax)
Salad
– Tauhu Bakar Sumbat Bersama Sos Berkacang / BBQ Beancurd Stuff with Vegetable served with Chef Sauce
Soup
– Sup Soto Ayam Bergedil / Indonesia Chicken Soup served with Potato Cake
Sorbet
– Lime Sorbet with Mint
Dome
– Ayam Masak Merah / Fried Chicken with Sweet Chili Sauce
– De'Wan Daging Rendang Tok / De'Wan Tok Beef Rendang
– Kari Ikan Siakap Berterung / Seabass Curry with Eggplant
– Sotong Masak Kicap / Stir Fried Squid with Soy Sauce
– Pucuk Ubi Tempoyak Rampai / Braised Local Vegetable with Fermented Puree
– Acar Rampai / Pickled Vegetables
Condiments
– Keropok Ikan & Sayur / Fish & Vegetable Cracker
Rice
– Nasi Putih atau Tomato / White Rice or Tomatoes Rice
Dessert
– Sago Gula Melaka dan Tart Buah-Buahan / Sago in Palm Sugar Syrup and Fruit Tart
Menu C – RM280++ per pax
(Minimum 150 pax)
Canapes / Amuse
– Keju Camembert Goreng dengan Buah Strawberry, Bawang Cream Ikan Salmon / Breaded Camembert Cheese served with Strawberry, Smoked Salmon Onion Sour Cream
Salad / Four Season
– Cucur Udang De'Wan, Kerabu Mangga, Steam Dim Sum, Seafood Roll Bergoreng / De'Wan Prawn Fritter, Young Mango Salad, Steam Dim Sum, Deep Fried Seafood Roll
Sorbet
– Lime Sorbet with Mint
Soup
– Cendawan Berlemak dengan Multigrain Roll / Creamy Mushroom Soup served with Multigrain Roll
Dome
– Rendang Ayam Pedas / Spicy Chicken Rendang
– Daging Masak Hitam / Braised AU Beef with Dark Soya Sauce
– Sambal Udang / Fried Fresh Tiger Prawn with Sambal Chili
– Ikan Norwegian Salmon dengan Kelio Sos / Slow Cooked Norwegian Salmon with Kelio Sauce
– Sotong Goreng Kunyit / Wok Squid with Turmeric
– Lemak Lodeh / Mixed Vegetables in Coconut Gravy
Condiments
– Keropok Ikan & Udang / Fish & Prawn Cracker
– Acar Rampai / Pickled Vegetable
Rice
– Nasi Putih atau Briyani Gajus / White Rice or Briyani Cashew Nut Rice
Dessert
– Cendol Ais Krim dengan Chocolate Kek / Vanilla Ice Cream with Cendol served with Chocolate Cake
Wedding Package
With a minimum spending of RM50,000++, the wedding package at De.Wan includes
Complimentary Welcome Cocktail for Pre-Reception
Complimentary Welcome Titbits and Snack during Pre-Reception
Complimentary Free Flow Soft Drinks (Coke & Sprite)
Complimentary use of Private Changing Room with Ensuite Water Closet
Complimentary 3 Tier Mock Wedding Cake
Complimentary 2 Bottles of Sparkling Juice for Champagne Fountain
Complimentary Food Tasting for 10 pax on Selected Menu
Red Carpet Aisle
Complimentary Basket of Flowers for Wedding March
Complimentary Flower Posies for All Tables
Complimentary Mini Cake / Chocolate Door Gifts
Reserved Parking Bay for Wedding Car
Availability & Rates
Fully booked! All bookings exhausted.
The event space at De.Wan can take up to 400 diners, seated very comfortably and elegantly. And with its location within the LINC KL mall, right at the corner of Jalan Tun Razak and Jalan Ampang, finding this place is going to be easy. There is also ample parking within the building.
Facilities
– Stage (12 feet x 24 feet)
– LCD projector & screen
– bridal changing room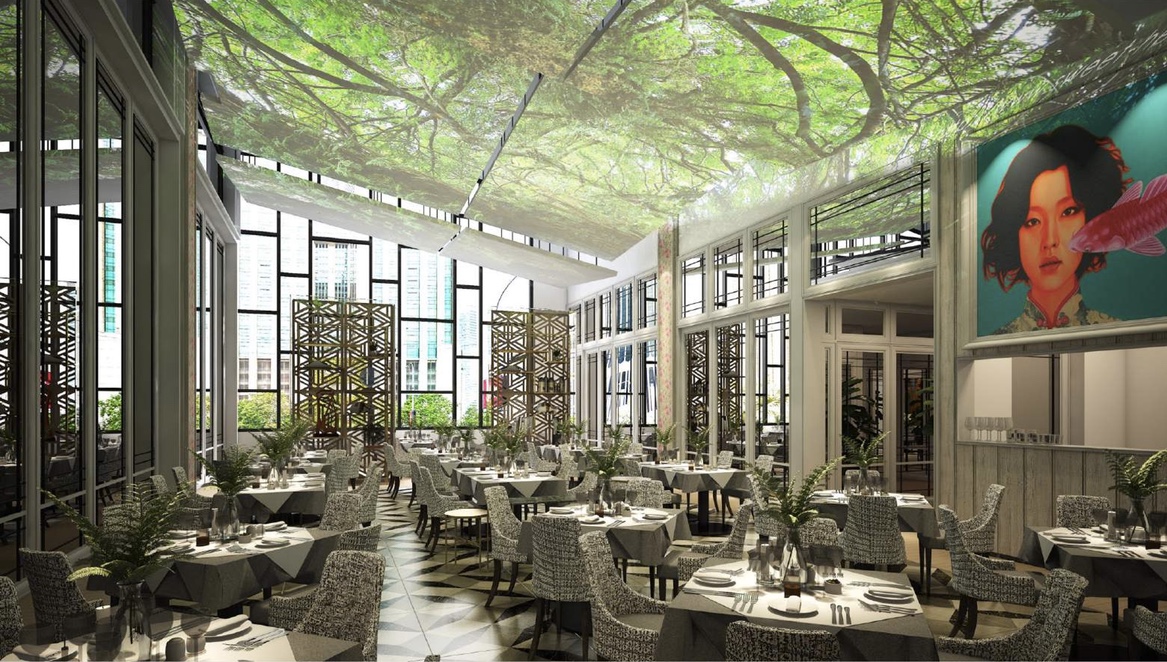 An event here starts from over RM60,000 – which covers the rental of the venue and also the food & beverage. If you are looking for a stand out venue for a corporate annual dinner, or a wedding where you have bragging rights on being among the first to hold your special day, then this space is definitely THE ONE. The rest of the spaces that call themselves the ONE are merely pretenders.