Jumbo Restaurant Bukit Kuchai
Event type : Birthday Party, Dinner Party, Full Moon Party, Gathering, Lunch Party
Get A Free Quote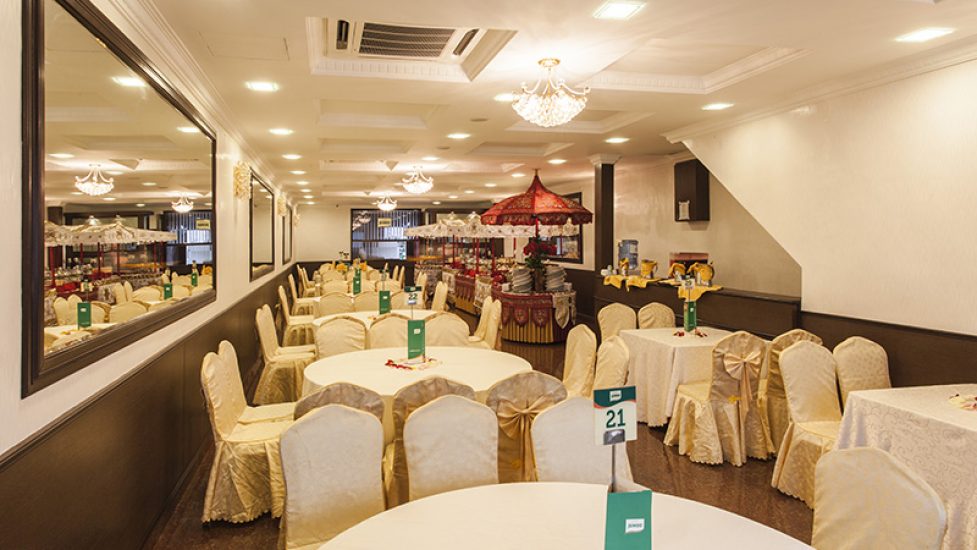 Jumbo Restaurant Bukit Kuchai
Jumbo Restaurant Bukit Kuchai was founded back in June 2005 and has grown much in experience in the field of F&B service and catering. At an affordable price range, a wide variety of food and beverage is featured in the menu here at Jumbo Restaurant Bukit Kuchai. Jumbo Restaurant Bukit Kuchai has its menu centred on traditional South Indian cuisine that uses healthy spices and herbs as their main ingredients. To suit the Malaysian multicultural taste, North Indian, Malay, Chinese and Western cuisine are also made available here at Jumbo Restaurant and Catering. All cuisine are prepared to be pork-free too. Jumbo Restaurant does not only focus on the savory aspects of Malaysian cuisine, but also the vegetarian choices that are available within their service range. In an approximate total, there are over 50 different types of dishes available at Jumbo Restaurant, including 15 different varieties of vegetarian dishes.
Event Space
The decor within Jumbo Restaurant is extremely eye-catching with its elegant settings for the dining of guests and simple plain-colored interior. The simplicity of the venue, Jumbo Restaurant, offers adaptability for the different types of events that you may be organizing. Not only that, Jumbo Restaurant provides a private function hall, designed and decorated exquisitely, that is opened to various types of reservations such as corporate functions or family events. Seating can also be made suitable to your event, whether in theater-style or banquet seating.
Events
Due to its variety in the type of cuisine served, Jumbo Restaurant is capable of accommodating to various events reservations. These would include a family function or party, a hi-tea party, a wedding, a corporate function, a product launch, a press-media gathering, a business event and a seminar or training, be it a full or half-day one. Jumbo Restaurant is also able to accommodate to a maximum seating of 85 guests.
Location
Jumbo Restaurant is based in Taman Bukit Kuchai in Selangor Darul Ehsan and has multiple parking spaces available by the streets. The venue is also easily accessible via Kinrara BK5 LRT station which is about 16 minutes of walking distance away from Jumbo Restaurant.
Address:

47, Jalan 23, Taman Bukit Kuchai,
Batu 8, Jalan Puchong,
47100 Puchong,
Selangor,
Malaysia
Get A Free Quote