Planet Khemah Tent & Canopy Rental
Service type : Furniture Rental
Get A Free Quote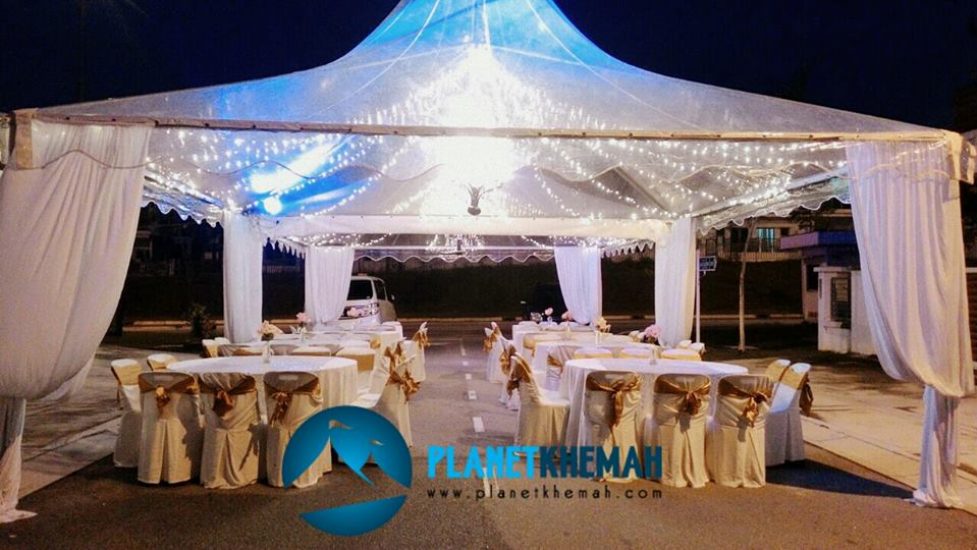 Planet Khemah
Planet Khemah was incorporated in 2014 and aim to offer qualify tent & canopy rental, as well as event furniture like tables and chairs for rent at reasonable price. Whether you are planning a small and intimate party or a wedding of 1000 guests, Planet Khemah has the right solution for you. Planet Khemah is passionate in meeting all their customersí event needs / requests and strives to ensure that every event that engages their service runs smoothly and successfully.
Malay Wedding Packages
Planet Khemah takes pride in their complete wedding packages. Besides tents and furniture, their service can extend to include Bridal Make-Up (Andaman & Solekan), Bridal Gowns (Busana Pengantin), Wedding Decoration and Theme Set Up (Koleksi Pelamin & Dekorasi), Catering (Katering), as well as Photography (Fotografi). Whether you are planning your event in a hall, outdoor, or at home, there are different packages to suit your likings and needs.
Rent Tables, Chairs, Tents, Canopies
Fully booked! All bookings exhausted.
Price
Tables & Tablecloths (Meja & Alas Meja)
5 feet Round Table (Meja Bulat) + Long Table Cloth (Alas Labuh) + 10 Chairs (10 Kerusi): RM45.00 each set
6 feet Buffet Table c/w Full Skirting (Meja Buffet dengan full skirting): RM50 each
5 feet Round Table (Meja Bulat): RM150 each
6 feet Square Table (Meja Empat Segi): RM150 each
Long Tablecloth for 5 feet Round Table (Alas Meja Meja Bulat Lebuh): RM20 each
Tablecloth for 6 feet Square Table (Alas Meja Meja Empat Segi): RM15 each
Colourful Table Top (Table Top Berwarna): RM5 each
21 feet Skirting (Skirting): RM20 each
Cake Table (Meja Kek) + Tablecloth (Alas) + Skirting: RM40 each set
Bridal Table (Meja Beradab): RM280 each set
* 1 x Bridal Chair (1 x Kerusi Pegantin)
* 8 x Banquet Chair (8 x Kerusi Banquet)
* Skirting & Scallop
Chairs & Covers (Kerusi & Sarung Kerusi)
Plastic Chair (Kerusi Plastik): RM2 each
Banquet Chair (Kerusi Banquet): RM 6 each
Chiavari Chair(Kerusi Chiavari): RM 12 each
Bridal Chair (Kerusi Pengantin): RM100 each
Chair Cover (Sarung Kerusi): RM3 each
Ribbon (Riben): RM1 each
Tents & Accessories (Khemah & Aksesori)
20 feet x 20 feet Arabic Tent (Khemah Arabic): RM250 each
10 feet x 10 feet Arabic Tent (Khemah Arabic): RM150 each
2 Colour Scallop Tent (Scallop Khemah 2 Warna): RM50 each
20 feet x 20 feet Under Layer Cream Color (Krim) & Chandelier Light: RM200 each set
20 feet x 8 feet Wavy Decorative Curtain (Tabir Hiasan Ombak) + Sidewall Canvas (Kanvas Sidewall): 180 each set
20 feet x 8 feet Sidewall Decorative Curtain (Tabir Kanvas Sidewall 20í x 8í): RM50 each
Gate (Pintu Gerbang): RM100 each
Chandelier Light (Lampu Chandeliar): RM50 each
Industrial Fan (Kipas Industri): RM100 each
Mist Fan (Kipas Kabut): RM250 each
*Note: Terms & Conditions Apply. Booking must be made 1 month in advance.
Prices exclude transportation and installation fees.
Address:

D22-A-GB, Jalan Prima Saujana 5/6,
Taman Prima Saujana,
43000 Kajang,
Selangor,
Malaysia
Get A Free Quote