Event type : Baby Shower, Birthday Party, Bridal Shower, Full Moon Party, Gathering, Lunch Party
Get A Free Quote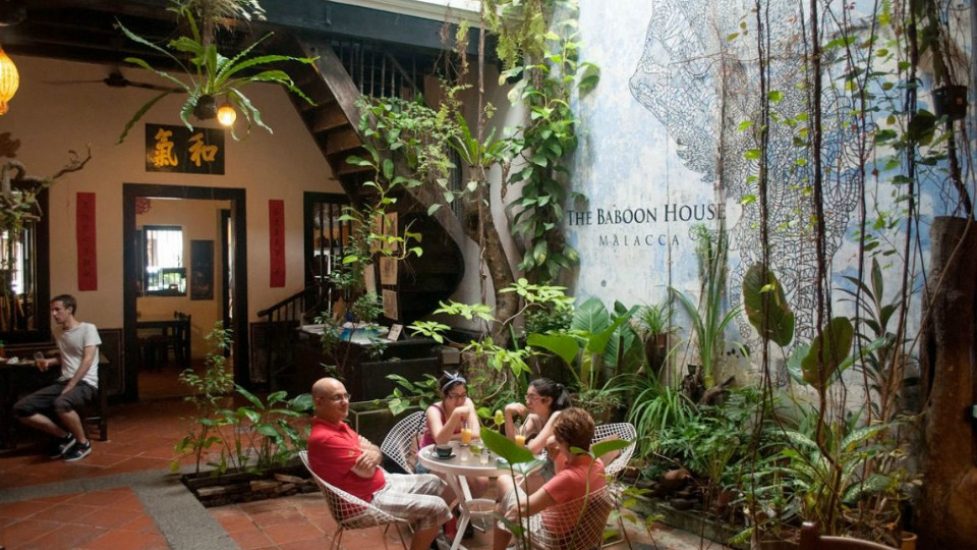 The Baboon House Melaka
The Baboon House Melaka is a modern quaint cafe located in the streets of Jonker Street that serves western food in a historical peranakan shophouse. This modern yet quirky cafe is filled with tranquil surroundings with its rustic and artistic interior. The Baboon House Melaka is famous for their authentic gourmet burgers as well as sandwiches which are homemade with chicken, beef and pork patties, with portions that are slightly bigger than most burger joints ñ perfect if youíve worked up a big appetite after a dayís sightseeing. On weekends, you can indulge in their freshly baked muffins or sip on some ultra creamy Vietnamese drip-coffee for a great pick-me-up before resuming your exploration of Jonker Street and its many antique shops.
Event Venue
The Baboon House Melaka has beautiful airwell with lots of plants and green giving off a very relaxing and experiential dining experience. Along with that, this event space is peaceful and cozy with its tranquil open-air courtyard, spacious seating arrangements and eclectic furnishings, making it a pleasant contrast to the busy streets of Jonker Street. On a side note, the Baboon House Melaka is pet friendly with the owners adorable dog wandering around.
Events
The Baboon House Melaka is modern cafe located in the streets of Jalan Tun Tan Cheng Lock Melaka, serving both lunch and dinner that can accommodate events of up to 40 pax. Such events that can take place are birthday parties, surprise parties, bridal shower or meet ups.
Location
The Baboon House Melaka is located in the busy streets of Melaka, Jonker Street, and is only a 3 minutes walk away from the Jonker Street Night Market. Youíll be sure to catch this event space located right next to the Courtyard Heeren Hotel. Street Parking is available.
Address:

89, Jalan Tun Tan Cheng Lock,
Kampung Bukit China,
75200, Melaka,
Malaysia
Get A Free Quote