Event type : Birthday Party, Gathering, Meet Ups
Get A Free Quote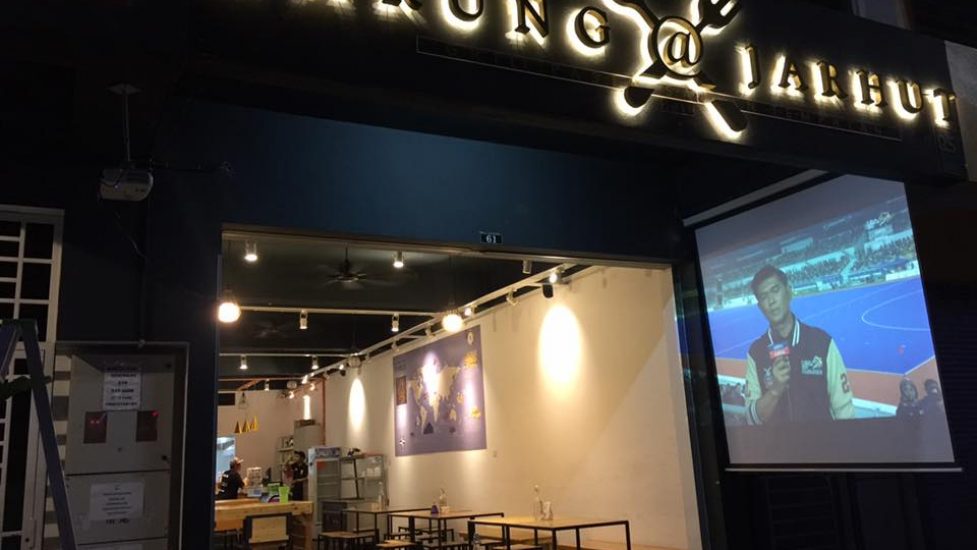 Warung Jarhut
Feel like going to a 'mamak' but want something a little more upscale? Warung Jarhut is the perfect place to be. This simple bistro balances local and international dishes in a casual, laidback way that makes Warung Jarhut a versatile event space for a wide range of events. Warung Jarhut serves up classic Malaysian dishes like Nasi Lemak Jarhut and Mee Goreng as well as international dishes like Italian pastas to Western grilled meats. The event space is a local neighbourhood hangout space with frequent live football events. Warung Jarhut has LCD and projector facilities available where they show live football matches while patrons dine on their delicious food and beverages.
Event Space
Warung Jarhut is a neighbourhood friendly event space that serves popular local and international dishes in a chilled out, friendly environment. The interior of Warung Jarhut is decorated in a simple, minimalistic manner with wooden square tables and chairs. The event space is lit with lots of soft lighting giving the place a warm, welcoming vibe. There are televisions around the event space and a big screen with a projector outside the shop for patrons to enjoy live sports showcases.
Events
Warung Jarhut is an ideal event space for a wide variety of event such as a birthday party, a lunch/dinner party, a casual party, a family gathering, an office meeting, or any other small scale events hosting up to 50 pax.
Location
Warung Jarhut is located in Seremban city in a shoplot area. The event space is accessible by taxi or self-driven cars with parking space available on the street side and parking lots.
Address:

61, Jln S2 B21,
Dataran Centrio, Seremban 2,
70300, Seremban,
Negeri Sembilan,
Malaysia
Get A Free Quote