Event type : Baby Shower, Birthday Party, Full Moon Party, Marriage Proposal
Get A Free Quote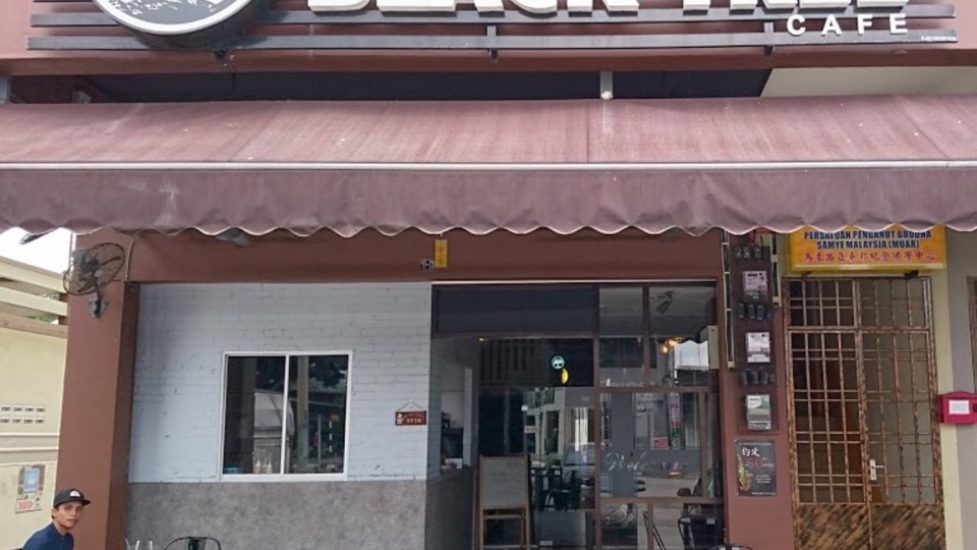 Black Tree Cafe
Black Tree Cafe is so named because it has a black interior as well as some black-coloured dishes such as squid ink pasta. Owner and chef Joel originally had a garden-themed cafe in mind but later felt the concept was already commonplace, so the idea was incorporated into their name and logo instead. Black Tree Cafe serves a variety of western cuisine and cafe food such as pasta, steaks, waffles and pancakes. They also have a range of delectable desserts including chocolate fondue and flaming chocolate ball.
Event Space
As its name suggests, Black Tree Cafe has an interior that is painted in black from wall to ceiling for a contemporary look. The event space consists of two sections separated by low artificial hedge walls. The section to the right is furnished with wooden furniture that matches the wood effect wallpaper running along the center of the wall, while the section to the left has white and red furniture as well as a small mezzanine – accessible through a spiral staircase and can accommodate up to 6 pax. Besides the usual tables and chairs seating, there are some comfortable couches indoor.
Events
Black Tree Cafe is a casual and comfortable event space with both indoor and outdoor seating. This contemporary event space is suitable for hosting a birthday party, baby shower, full moon party, wedding anniversary, marriage proposal, engagement party, corporate gatherings as well as get-together with family & friends. It can accommodate up to 50 pax, with around 40 pax indoors.
Location
Black Tree Cafe is located on Jalan Khalidi in Muar town center, Johor. It is on the ground floor of a three-storey shop lot facing the main road. Street parking is available in front of the shop lots.
Address:

No. 1-3, Jalan Khalidi,
Taman Sri Tanjung,
84000 Muar,
Johor,
Malaysia
Get A Free Quote