Jasmine Hall @ Kinta Riverfront Hotel
Event type : Annual Dinner, Conference, Wedding Venue
Get A Free Quote
Jasmine Hall @ Kinta Riverfront Hotel
Kinta Riverfront Hotel & Suites is one of the best places to create wonderful memory in Ipoh. Strategically located in the commercial centre in Ipoh, it is also a perfect venue to host a variety of events. The Jasmine Hall in Kinta Riverfront Hotel & Suites is an adaptable event hall, fit for any event necessity, ranging from corporate functions to personal celebrations.
Their menu option starts RM68 per pax
Check out their seminar package
Please click here for date & time slot availability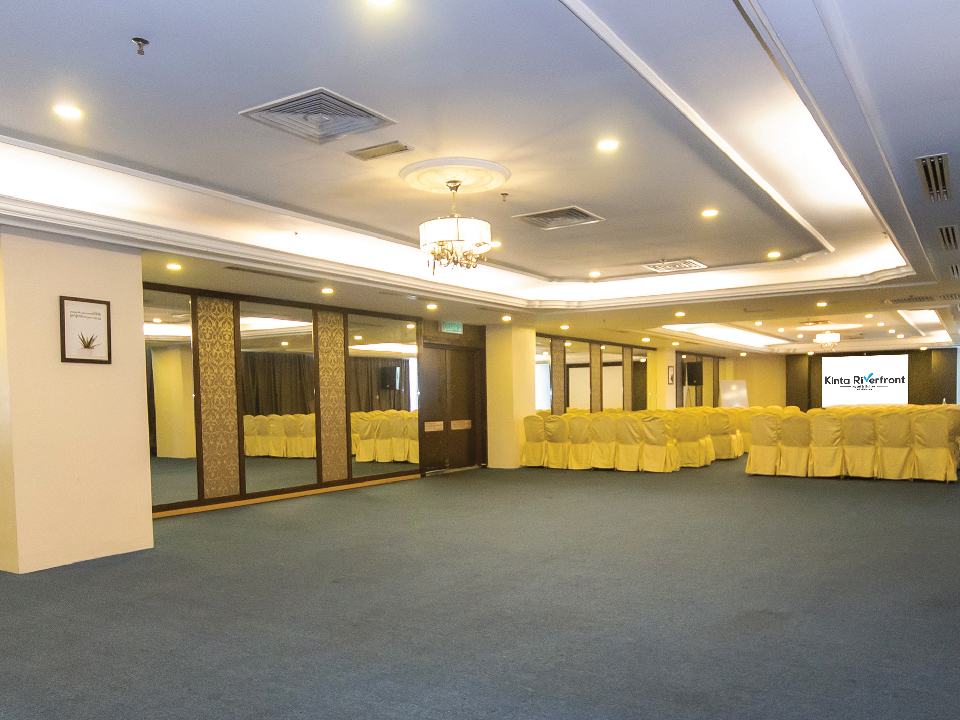 Capacity
U Shape – 80 pax
Classroom – 130 pax
Theatre – 210 pax
Boardroom – 80 pax
Round Table – 200 pax
Facilities
Projector
PA system
Décor
Cordless/ stand mic
White screen
Flip chart
Stage
Wireless internet
Hall Rental
Full Day Usage (8 Hours) – RM1500
Half Day Usage (4 Hours) – RM900
Menu Options
BUFFET
RM68/pax
(Minimum 40 pax)
STARTER
Selections of Cold Platter, Beef Pastrami with Pickles
Grill Calamari with Kidney Bean & Mushroom
Musculum Mixed Salad
Cherry Tomato Salad with Sweet Basil
Thai Egg Salad, Lotus Root with Sesame Oil, Kerabu Mangga, Pasta Salad
Lotus Root with Sesame Oil
SOUP
Cream of Mushroom Soup
Assorted Bread Rolls
MAIN COURSE
Prawn with Five Spice Pepper
Pan Fried Chicken Breast with Mushroom Sauce
Beef Rendang with Coconut Cream
Stir Fried Chinese Baby Kai Lan with Button Mushroom
Malaysian Fried Rice
Steamed Rice
 DESSERT
Fresh Fruit Cut
Pineapple, Papaya, Watermelon, Honeydew, Orange
French Pastry, Lemon Cheese Cake
Assorted Rainbow Jelly in Glass
Cream Caramel
Banana Strudel with Vanilla Sauce
Chocolate Brownie
Fruits Tartlet
BEVERAGES
Coffee & Tea
Cordial
DOME SET
RM680/table
(Minimum 10 tables)
PEMBUKA SELERA
Gado-gado
SUP
Soto Ayam
HIDANGAN UTAMA
Nasi Tomato
Nasi Putih
Ayam Masak Merah
Kurma Kambing
Sambal Udang
Kari Ikan
Sotong Goreng Kunyit
Pajeri Nenas Gula Hangus
PENCUCI MULUT
Sagu Gula Melaka
Buah-buahan Tempatan
MINUMAN
Cordial
Kopi atau Teh
CHINESE SIT DOWN
RM750/table
(Minimum 10 tables)
Four Season Combination (四热上荤)
Braised Eight Treasure with Seafood Soup (八珍海鲜羹)
Deep Fried Debone Chicken with Apple Sauce (苹果香酥鸡)
Deep Fried Garoupa Fish with Sweet & Sour (甜酸石班魚)
Braised Twi-Mushroom with Bean Curd Skin (腰果炒四疏)
Fried Rice Yong Chew Style (揚州炒香飯)
Crispy Chinese Pancake (香脆鍋餅)
Chilled Longan Ice (龍眼雪品)
Full Day Seminar Package
RM70 per pax
(Minimum 30 pax)
From 9am to 5pm
With 2 tea breaks + 1 chef's choice buffet lunch
Half Day Seminar Package
RM58 per pax
(Minimum 30 pax)
From 9am to 1pm or 2pm to 5pm
With 1 tea breaks + 1 chef's choice buffet lunch
Availability & Rates
Fully booked! All bookings exhausted.
Event
Jasmine Hall at Kinta Riverfront Hotel & Suites is an all-round event space, suitable for Annual Dinner, Wedding, Meeting and Conferences.
Location
Kinta Riverfront Hotel is a 6-minute drive from Ipoh Parade Mall and Perak Tong. Medan Gopeng Bus Station and Sultan Azlan Shah Airport are an 11-minute drive from the hotel.
Address:

Kinta Riverfront,
Jalan Lim Bo Seng,
30000, Ipoh, Perak

Get A Free Quote