Event type : Baby Shower, Birthday Party, Full Moon Party, Meet Ups
Get A Free Quote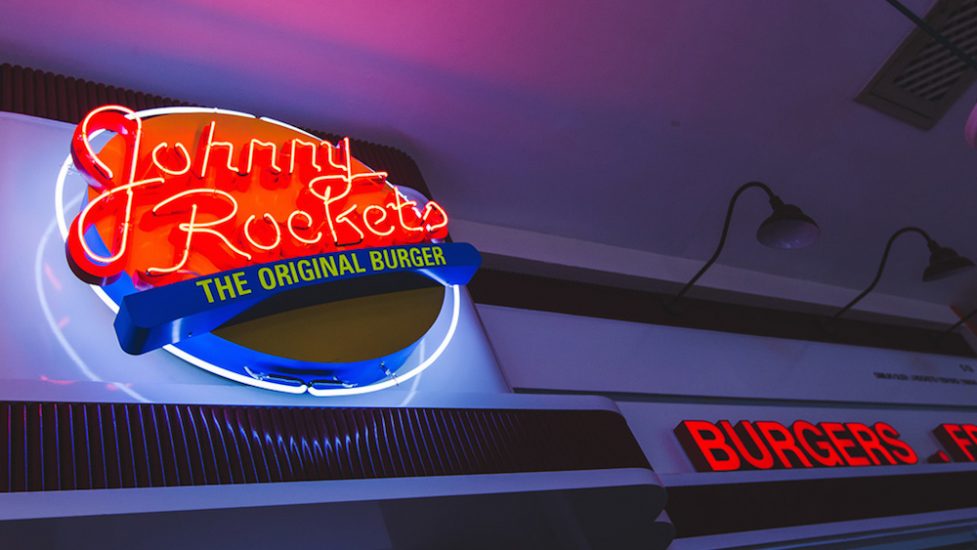 Menu Options
| | | |
| --- | --- | --- |
| Menu A – RM40 per pax | Menu B – RM58 per pax | Menu C – RM68 per pax |
| Garden Salad | Garden Salad | Tomato Bruschetta |
| American Fries | American Fries | Bacon Skewer with Cherry Tomato |
| Mini Cocktail Sausage | Mushroom Soup | Mushroom Soup |
| Creamy Chicken Carbonara | Creamy Chicken Carbonara | Chicken Tender |
| Mini Burger Beef Patties | Rockets Single (110 gm) | Mini Burger |
| Tuna Sandwich | Tuna Sandwich | Tuna Sandwich |
| | Olio Pasta | Spaghetti Arrabiata |
| | | Mini Sausages |
| | | Breaded Wing |
| Mixed Fruits | Mixed Fruits | Mixed Tarts |
| | Mini Brownie | Mini Brownie |
| | | Mini Muffin |
| Soda Pop | Soda Pop | Fruit Punch |
| Iced Lemon Tea | Iced Lemon Tea | Soft Drinks |
| | Mineral Water | Mineral Water |
Book Your Event
Fully booked! All bookings exhausted.
Johnny Rockets The Curve
Johnny Rockets is an international restaurant chain that offers the food, fun and friendliness of classic, timeless, feel-good Americana. Think "Happy Days" and imagine the Fonz walking in through the door and Al serving you hot dogs and milkshake behind the counter. Apart from that, Johnny Rockets Avenue K serves a variety of all-American favourites, including burgers and sandwiches!
A 1950s Themed Event Venue
If you are planning a 1950s themed party or event in the Mutiara Damansara area, then look no further than Johnny Rockets The Curve. The waiters are all dressed in 1950s styled American diner uniforms. Johnny Rockets The Curve, is the place to go for friendly service, flavourful food, uplifting music and relaxed, casual fun.
Events
Johnny Rockets The Curve is an event space that is suitable for you to host casual events like a birthday party, baby shower, full moon party, farewell party, office lunch party, gatherings or meet ups with friends, or reunions. It can host up to 80 pax.
Location
Johnny Rockets The Curve is on the ground floor of The Curve, Mutiara Damansara's lifestyle and entertainment hub. The Curve is easily accessible via the many roads like the LDP, Jalan Damansara and even the Kerinchi Link, so getting there shouldn't be a problem. There is adequate parking within The Curve.
Address:

Lot G52, The Street,
The Curve,
Mutiara Damansara,
47810 Petaling Jaya,
Selangor,
Malaysia
Get A Free Quote