Event type : Birthday Party, Business Dinner, Business Lunch, Corporate Dinner, Wedding Dinner, Wedding Venue
Get A Free Quote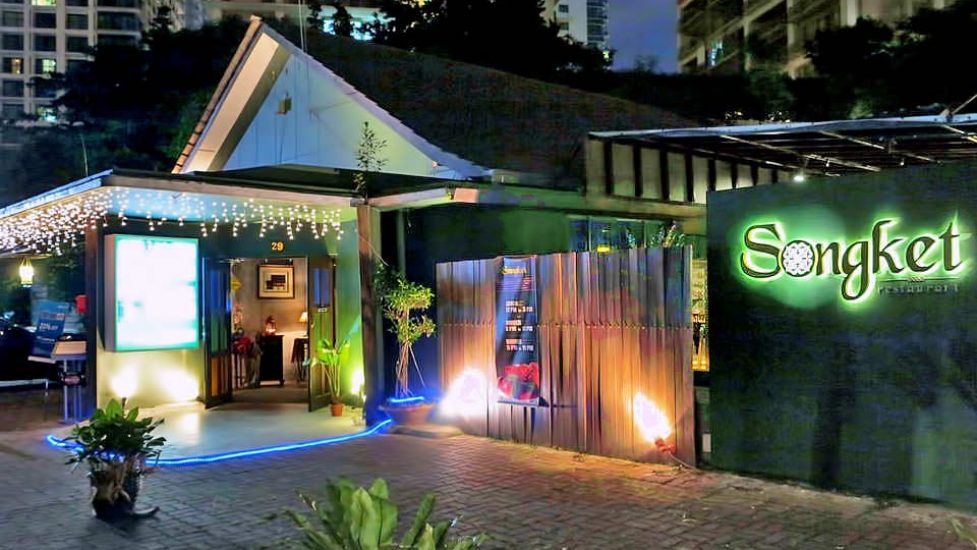 Songket Restaurant
Songket is an art-form of hand-woven fabric in silk or cotton, and intricately patterned with gold or silver threads that stand out against a background cloth to create a shimmering effect, imbuing a sense of luxury on the wearer. Songket Restaurant brings to you the rich tradition and luxury associated with Songket to your dining experience, focusing on authentic and traditional Malay food infused with a modern touch. You are invited to host your event at Songket Restaurant, where the Kampong ambience, fine-cuisine Malay food and interactive ethnic dance performances contrasts with the skycrapers of KL.
Buka Puasa Buffet Menu – RM88++ Per Pax
Minimum 20 Pax
APPETIZER
Kerabu manga
Kerabu jantung pisang
Cucur udang
Tauhu sumbat
Rojak buah
Ulam-ulam kampong
Aneka ikan masin
Sambal belacan,sambal tempoyak,Budu,cincaluk, keropok ikan,keropok sayur,papadom.
SOUP
Sup ayam
Sup daging
Bubur lambok
MAINS
Nasi putih
Nasi minyak
Kurma kari ayam
Ayam goring songket
Daging masak merah
Masak lemak ikan tempoyak
Sotong sambal
Udang sos mentega Kailan dengan sos tiram
Sayur campur goring bawang putih
RAMADHAN SPECIAL
Lemang, Ketupat Pulut
Nasi Impit Kuah Kacang
Rendang Daging
Serunding Ayam Daging
NOODLES STATION
Asam laksa
Mee kuning
LIVE GRILL
Kambing Bakar Berempah served with Black Pepper Sauce and Mint Sauce
Ikan Bakar
Sotong ( Air Asam dan Cili Kicap )
Sate Ayam
Sate Daging
DESSERT
Kurma
Buah Buahan Tempatan ( 5 Jenis )
Kuih Muih Tradisional ( 6 jenis )
Bubur Cha Cha
Sago Gula Melaka
Moist Chocolate Cake Marble Cake
Sum Sum Pandan Puding
Ice Cream (homemade 3 type and ice cream potong)
ABC
Cendol
BEVERAGES
Teh Tarik
Sirap Selasih
Air Jagung
Air Limau Kasturi Asam Boi
Kopi kampung
Event Space
Songket Restaurant offers an air-conditioned indoor seating area and an outdoor dining area with 3 photogenic kampong huts and a private dining room for 10 for a more intimate dining experience. You will be spoilt for choice and photographic sites. The hidden gem was built along the lines of a Kampong Malay house and sports traditional art crafts and curios in the décor.
Events
Songket Restaurant is perfect for hosting your corporate lunch or business dinner. You can also host private events like a birthday party, farewell party or just entertaining your foreign guests. And with the space that they have, it is also suitable to host wedding events, especially a Malay wedding. The event space can take seat up to 250 pax using both indoor and outdoor space. In events where guests are on a "come and go" basis, such as Malay weddings, more than 250 pax can be arranged.
Location
Songket Restaurant is located at 29 Jalan Yap Kwan Seng, nearer to the Jalan Tun Razak end. Parking is available in front of the restaurant, and it is one of the few spaces along this area that has parking space. Their location behind another building on the main road, makes this a hidden gem in the heart of Kuala Lumpur.