Event type : Baby Shower, Birthday Party, Full Moon Party
Get A Free Quote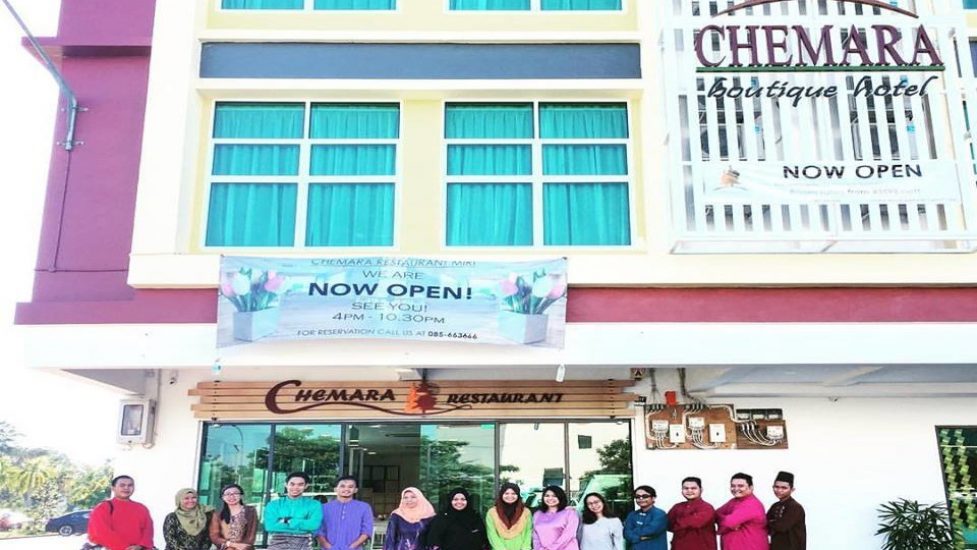 Chemara Restaurant
Opened in 2017, Chemara Restaurant is the onsite restaurant of the Chemara Boutique Hotel, a 3 star hotel that boast of 25 air-conditioned hotel rooms. Both the hotel and event space get its unique name from the trees that thrives along the shorelines of Lutong in Miri, Sarawak where they are both located. Specialities at this pork-free event space include local delights such as Nasi Ayam Panggang Madu, Mee Belachan and Laksa Sarawak. Hotel guests can also order meals to be send to their rooms from the event space. They serve home-made bread for breakfast and a buffet style economy nice spread for the weekday lunch crowd. For dessert a must try is their Putu Chemara Nutella.
Event Space
Chemara Restaurant is a cosy event space that offers a wide selection of authentic local Malay food at affordable prices. Popular with hotel guests and locals, the event space is minimalistic in its decor and choice of light wood furnishings. The air conditioned event space is clean and bright with lots of natural sunlight streaming in from the glass panelled windows. A blackboard at the side counter displays the specials of the day. The event space is tidy, clean and has a welcoming friendly ambience.
Events
Chemara Restaurant caters to guests of the Chemara Boutique Hotel as well as to walk-ins and private reservations. The event space which can seat up to 70 pax is also a good event space to hold events such as corporate lunch, birthday party, anniversary, baby shower, friendly gathering and reunion.
Location
Chemara Restaurant, located at the Ground Floor of the Chemara Boutique Restaurant in Miri is a 15-minute drive from the Miri Boulevard Shopping Complex and Miri Golf Club. Parking lot spaces are available.
Address:

Lot 1436 & 1437, Ground Floor,
Block 1, MCLD,
Jalan Pasar Lutong,
98000, Miri,
Sarawak,
Malaysia
Get A Free Quote