Sg. Besi Construction Sdn Bhd Announces MoU with VMO Rocks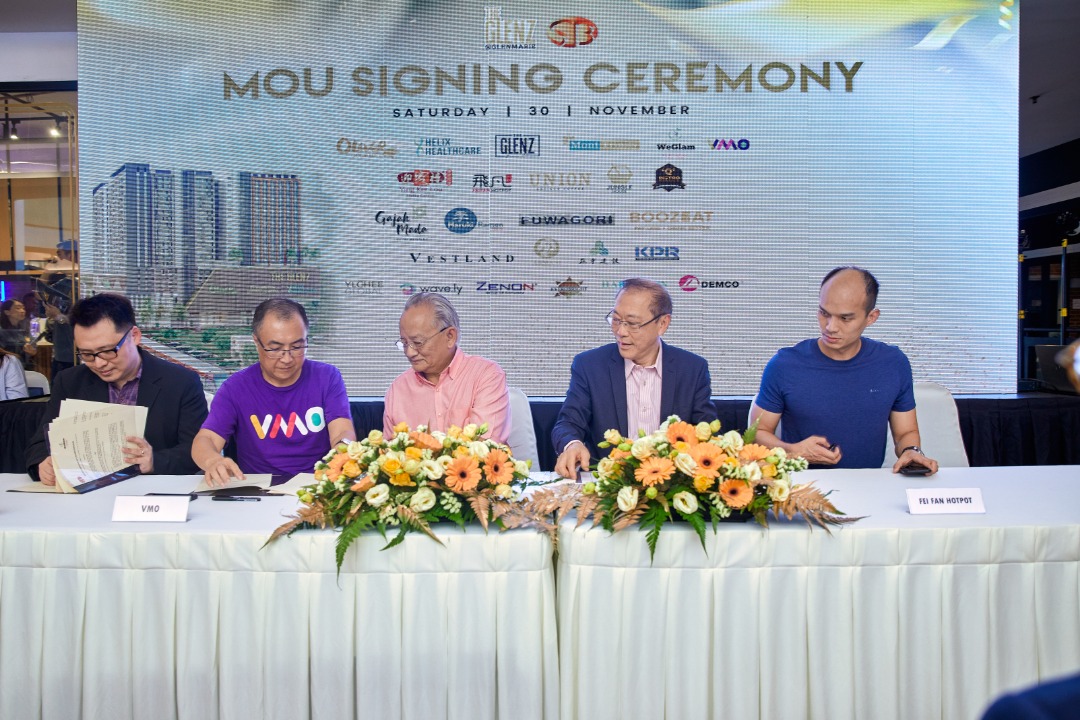 Kuala Lumpur, 30 November 2019 – Sg. Besi Construction Sdn Bhd today officiated its Memorandum of Understanding (MoU) signed with VMO Rocks sdn Bhd as the exclusive event venue booking platform at The Glenz – an integrated lifestyle project which represents the first transit-oriented development (TOD) in Glenmarie.
Booking an event like a birthday party or a company dinner or a reunion dinner at the F&B tenants that will be operating at The Glenz would be as simple as the click of a mouse. These F&B tenants include Union Artisan Coffee; Fei Fan Hotpot; Ying Ker Luo Hakka Cuisine; Gajah Mada which serves Indonesia fare; Japanese dessert chain Fuwagori, Maruki Ramen Tokyo, Q Bistro and a Boozeat bar.
Other than F&B options, users can also book parties at the WeGlam beauty hub that will occupy 10,000 sq ft of space with an event space, private studios and meeting rooms complemented by a beauty and hairdresser area as well as manicure and pedicure space; and The Glenz Business Hotel.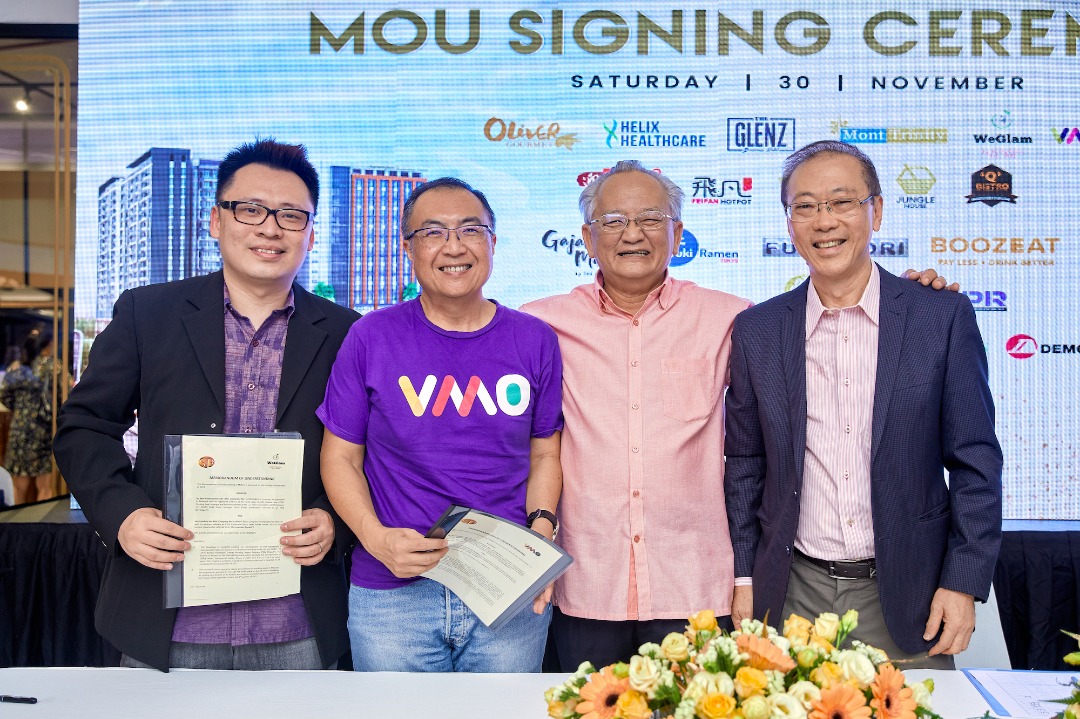 Being the first transit oriented development in Glenmarie, the recent winner of the Best Commercial Suites Development category at Property Insight's Prestigious Developer Award 2019 is a freehold development spread across 2.52 acres. Strategically located adjacent to a thriving education and medical hub, The Glenz is poised to be the new iconic development to grace this sought-after prestigious commercial address in Glenmarie.
"VMO is honoured to be chosen as the exclusive venue booking partner for an entire property project. We believe that the strategic location of The Glenz will make it a popular event destination for people living around the area and beyond. The linkage via the upcoming Kerjaya LRT station on the LRT3 line will definitely be an added advantage in making this venue easily accessible" said Vincent Kok, Chief Event-gelist of VMO.
At the press conference held at Citta Mall in Ara Damansara which was also attended by the key tenants and prospective buyers, Mak Hon Weng, Chief Operating Officer of Sg. Besi Construction Sdn Bhd expressed optimism in The Glenz.
"Today marks a significant milestone for Sg Besi Construction Sdn Bhd, an associate member of the Golden Armani Group, as we announce the MoU with 22 retailers, corporate owners and hotelier which will provide a strong tenant mix at The Glenz, a Qlassic compliant integrated development with a Gross Development Value (GDV) of more than RM400 million. The development comprises 262 suites, 168 offices, eight units of 3-4 storey shops, a retail grocery and The Kensington Business Hotel he shared.
"The Glenz is an exciting business address strategically located and intelligently built with ample parking bays. It is an integrated development that offer a conducive and convenient place for work and leisure pursuits besides being an excellent investment opportunity," he added.
ABOUT SG. BESI CONSTRUCTION SDN BHD
Sg. Besi Construction Sdn Bhd specialises in the construction of large commercial and industrial buildings. It has since completed 56 contracts valued at approximately over RM1 billion since 1997. The company, owned by two shareholders – Fong Sui Leong and Wong Ngok Lim – has delivered a record of milestone achievements. With its long establishment and years of experience in the construction industry, the company decided to move into property development about a decade ago.
For more information, contact Yee Jin at 012-454 6260 or Wai Ling at 012-234 7764.
ABOUT VMO
VMO is an instant booking platform for event venues and services with over 2,000 merchant listings across Malaysia on their site, covering event spaces for a wide range of 'life events' including birthday parties, graduations, wedding receptions, baby showers, corporate events, product launches, office meetings, and more. Having generated over RM160 million worth of inquiries, the platform also lists supporting event services to liven any occasion.
Users can do a free form search, or by "event / service category", or even by "location" to filter out the event niche they are looking for, then get a free quote, and compare rates before placing their booking. Venue and Service operators can rely on VMO's listing & booking platform to make their offerings known.