Event type : Business Presentation, Corporate Dinner, Exhibitions, Press Conference, Product Launch, Product Talk, Seminar, Wedding Dinner, Wedding Venue
Get A Free Quote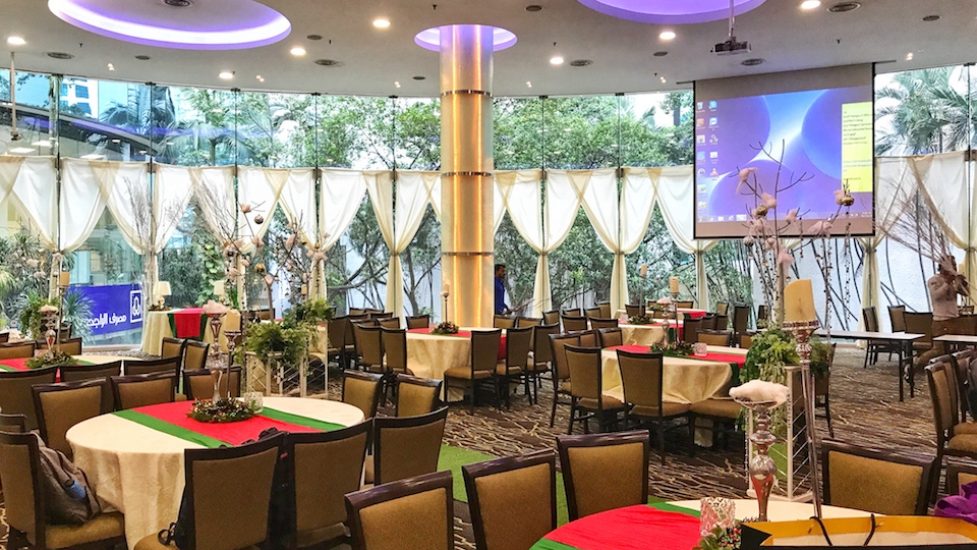 Cornerstone Event Space
Rates
Monday to Thursday : RM8,000
Friday & Saturday : RM9,000
Sunday : RM10,000
Event Venue
The Cornerstone Event Space has seen many events throughout it's lifetime. It was previously used as a chinese restaurant before it was converted into an event venue. With its high ceiling and glass to ceiling windows, it is an elegant event space that lets a lot of light into the hall. This makes it suitable for a wide variety of private or corporate functions. With 11,000 square feet of space, it has a lot of room for your guests to move around. Apart from the main hall, there is a lobby that is suitable for a pre-event networking session or pre-dinner cocktail.
Facilities
Stage (2 feet high)
2 Projectors
2 Projector Screens
PA System
200 banquet chairs
20 banquet tables
Upon Request (Additional Charges Applies)
10 cocktail tables
10 rectangular tables
Buffet Menu and Decoration
Buffet Menu – RM73 nett per pax
House Brand Jumping Spaghetti
Aroma Butter Raisin Rice
Grilled Chicken Chop with Mushroom Sauce
Crispy Fish Finger with Mango Mayo Dipping
Garden Fresh Salad with Dressings
Grilled Chicken Kebab with BBQ Sauce
Cheesy Baked Chicken Breast with Neapolitan Sauce
Scott Eggs served with Mayonnaise Sauce
Braised Lamb Shank with Brown Sauce
Creamy Wild Mushroom Soup served with Garlic Bread
Homemade Fruits Cake
Fresh Fruits Jelly
Sparkling Cranberry Juice
Decoration – RM5,500 nett
1 x Photobooth Deco
1 x Entrance/Stairs Deco
12 x Table Deco
1 x Buffet Table Deco
1 x Stage Deco
1 x Green Carpet
Wedding Event Venue
Cornerstone Event Space has been a popular space as a wedding venue and has seen many wedding events taking place here. You could plan a wedding ROM, akad nikah, a wedding reception, or a wedding banquet (be it a lunch or a dinner) and the team at Cornerstone Event Space will be ready to help you put together a wedding to remember.
Events
Cornerstone Event Space is also suitable for hosting an Annual Dinner, Conference, Corporate Function, Engagement, Marketing Event, Media Launch, Meetings, Networking, Press Conference, Private Party, and so much more. This event space can take 300 pax per seated or 400 pax standing.
Location
Cornerstone Event Space is located in Kuala Lumpur at Wisma Selangor Dredging, right across from KLCC between Public Bank and British Council. This space is easily accessible by LRT. Parking is also very convenient with a multi-level underground parking lot and an open parking space right next to the building.
Address:

Level 2, North Block, Wisma Selangor Dredging,
142 D, Jalan Ampang,
50450 Kuala Lumpur,
Malaysia
Get A Free Quote