Event type : Baby Shower, Birthday Party, Gathering, Meet Ups
Get A Free Quote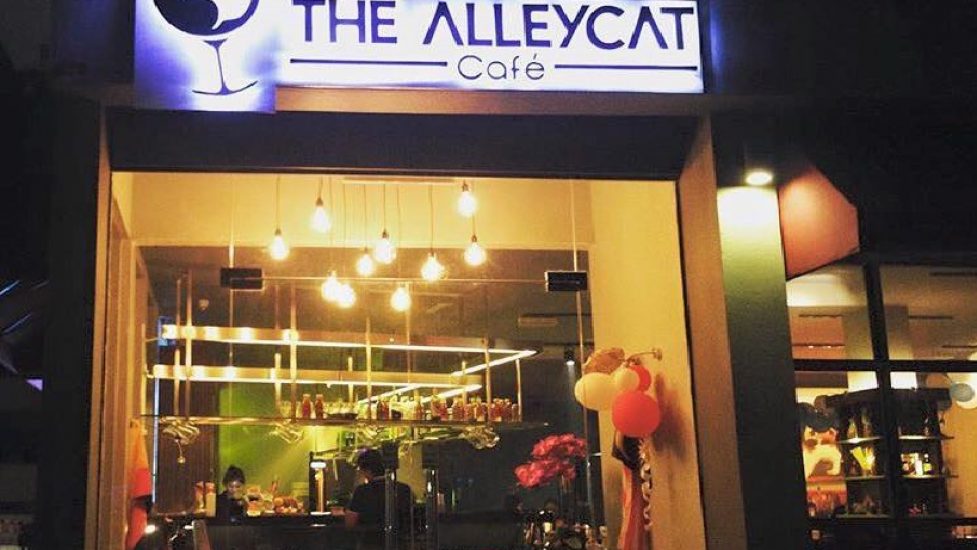 The AlleyCAT Cafe
Meow from The AlleyCAT Cafe, Kuching, Sarawak, a feline friendly event space! The unique event space offers awesome Tex-Mex food brought to you by Chef Adam Chan and legendary drinks. Proven popular and signature dishes include Dry Aged Beef, Thai Chilli Sauce Buffalo Wings and Classic Fajitas. Opened is 2015, the casual event space is owned by local cat-loving Sarawakians and serves alcoholic beverages and has all night promotion for draft beer. The event space welcomes furkids and owners to partake of their lunch promotion or for dinner.
Event Space
Funky and cheeky pussycat decor is everywhere at the event space, making it a truly Instañworthy event space. The event space has a common dining area as well as a private room for 30 pax, a covered patio area and alfresco dining. The crowded dining area is laid out with long tables, metal coloured chairs and stools, hanging naked light bulbs and bright checked tablecloths. An impressive service counter lines the back wall of the cafe. Creative signature merchandise are sold at a corner of the event space which also doubles up as the centre stage for a function. Meals come with a signature AlleyCAT flag and is served by friendly staff with big smiles.
Events
The AlleyCAT cafe is the perfect event space for a birthday party, luncheon, bachelor party, anniversary, family get-togethers and other special celebrations as the event space can accommodate 70pax indoors, inclusive of 30 pax in its private room, 20 pax at the patio. Rest assured of delicious food, customised decor, beautiful setting and great service.
Location
The AlleyCAT Cafe is situated at the ground floor of the Kemena View Hotel on Jalan Song Thian Cheok. It is a 5 minute drive from the cat statue landmark of Kuching city.
Address:

Lot 145-146, Section 51 KTLD,
Off Jalan Song Thian Cheok,
93100 Kuching,
Malaysia
Get A Free Quote