Event type : Baby Shower, Birthday Party, Bridal Shower, Full Moon Party
Get A Free Quote
SFG Cafe
SFG Cafe serves a wide variety of western cuisine and they pride themselves in offering you a customised menu for your events. Apart from serving you the food, you can also arrange interactive cooking classes with them where the whole family can get together to prepare a meal. The Hands-on cooking class at SFG Cafe teaches children not just how to make healthy food, but also provides parents with a constructive guide in shaping their children's dietary habits.
Minimum spending on food & beverage:
i) Ground Floor – RM1,600 (fit up to 60pax)
ii) Garden – RM1,800 (fit up to 60pax)
iii) Mezzanine Floor – RM1,000 (fit up to 20pax)
iv) Ground Floor + Garden – RM3,400 (fit up to 120pax)
v) Ground + Mezzanine – RM2,600 (fit up to 90 pax)
vi) Ground + Mezzanine + Garden – RM4,400 (fit up to
150pax)
Please click here to see the menu options
Click here to check availability & rates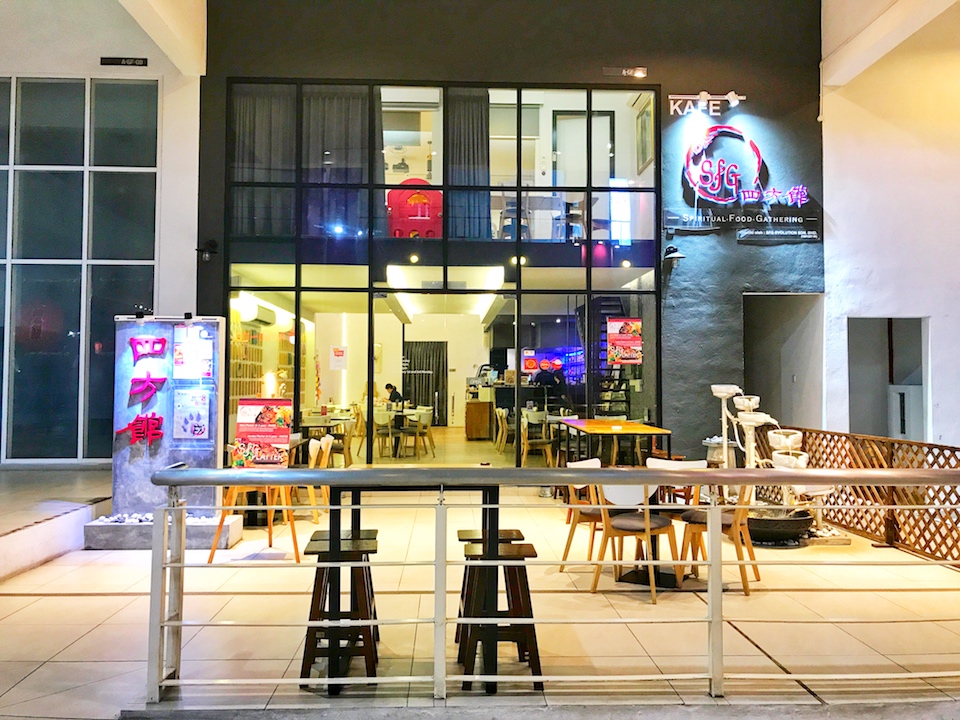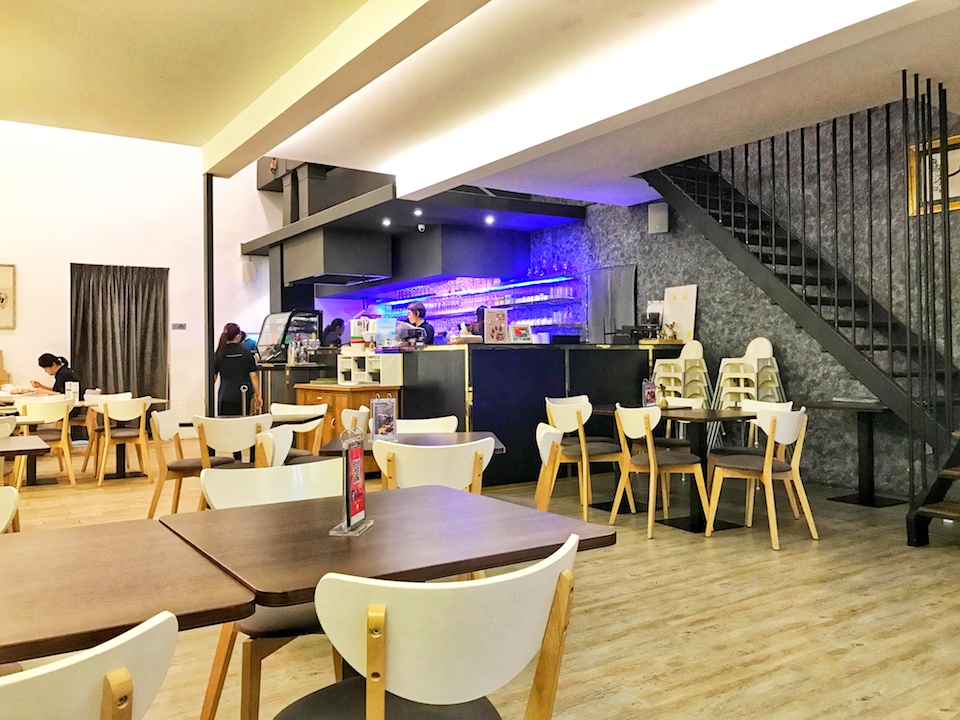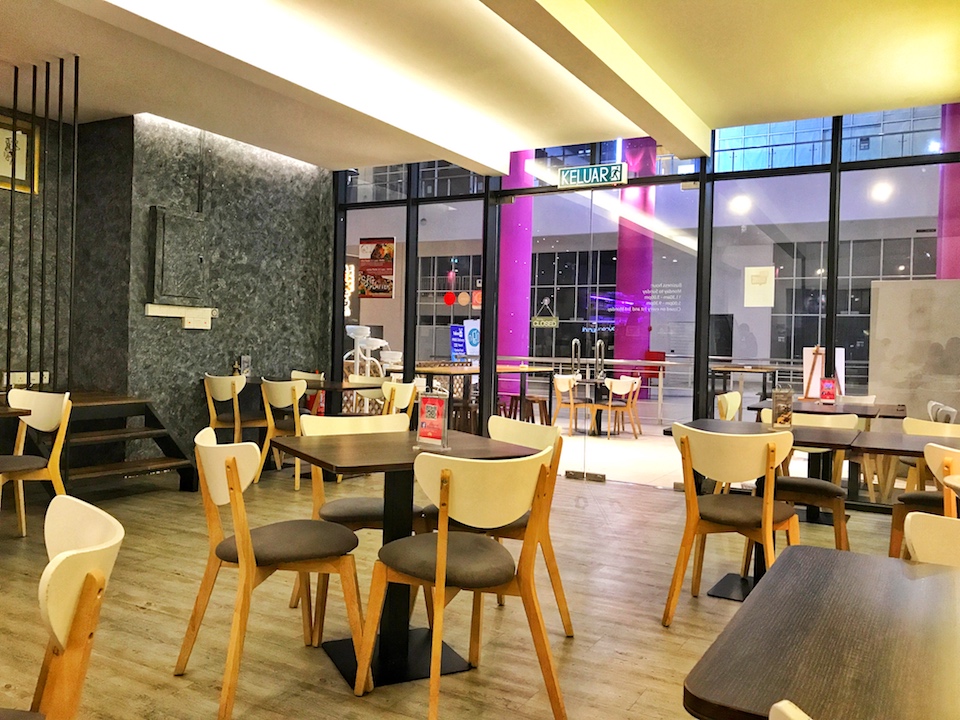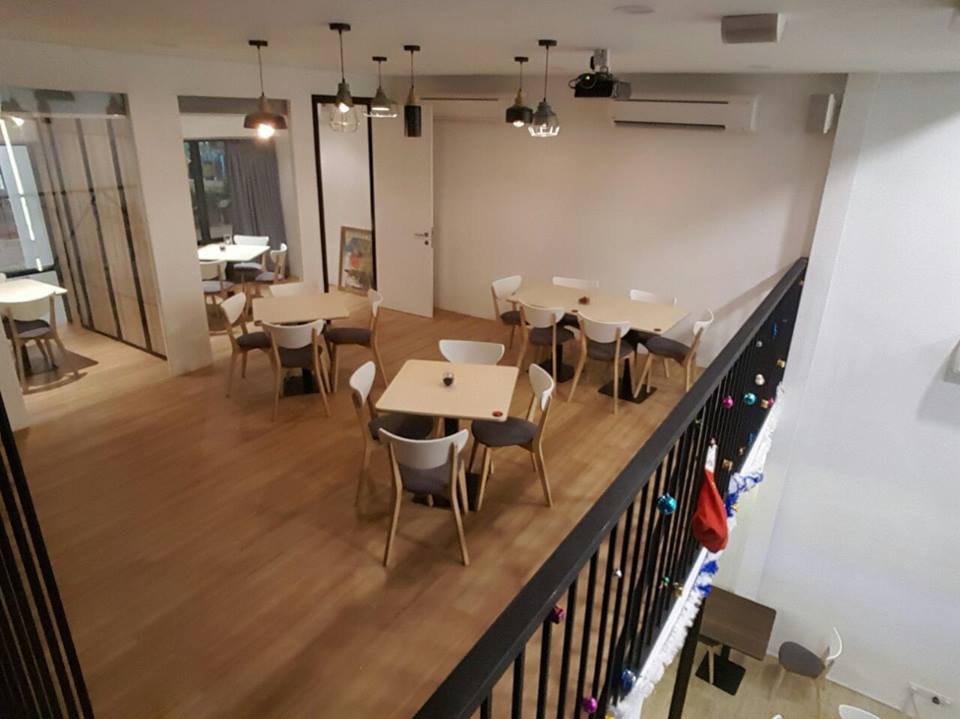 Menu
Western Buffet Menu A – RM 43 per pax
(minimum – 60 pax)
SALAD
SFG Chef Salad
(French Mustard Dressing, Mixed Green, Cherry Tomato, Japanese Cucumber, Tuna Mayo)
CANAPÉ
Egg Mayo Ham on Biscuit
French Club Sandwiches
Baked Sliced Cheese with Mini Sausage
Tuna Tarts
RICE
Long Bean Herbs Fried Rice OR Sweet Corn Fried Rice
PASTA
Aglio Olio Spaghetti OR Vegetable Spaghetti
MAIN DISH
Creamy Curry Chicken with Mixed Herbs Potato
Mixed Vegetables with Gravy Sauce
Lamb Shoulder with Mint Sauce OR Fried Fish Fillet with Lemon Mayo Sauce
DESSERT
Tropical Fresh Fruits Platter
Homemade Brownies Cake
DRINK
Orange Juice OR Lemon Juice
Western Buffet Menu B – RM 54 per pax
(minimum – 50 pax)
SALAD
Sweet Corn Potato Salad
(Mixed Green, Tomato, Cherry Tomato, Potato Cube, Creamy Sweet Corn)
CANAPÉ
Sardine Mixed Green Bruschetta
Tomato in Plum Sauce
Classic Club Sandwiches
Turkey Ham Mini Sausage Roll
Egg Mayo with Mashed Potato
RICE
Western Sausage Fried Rice OR Sliced Chicken Herbs Rice
PASTA
Creamy Oyster Sauce Spaghetti OR Stir Fried Trio Mushroom Spaghetti
MAIN DISH
Deep Fried Chicken with Mixed Herb Potato
Mixed Vegetable with Creamy Curry Sauce
Braised Lamb Cube w/ Aroma Mixed Herbs OR Deep Fried Sea Bass with Lemon Capsicums
DESSERT
Strawberry Mousse Cake
Mixed Fruits Platter
DRINK
Sparkling Citrus Juice
Western Buffet Menu C – RM 76 per pax
(minimum – 40 pax)
SALAD
Mixed Fruit Salad with Nuts
(Green Apple, Orange, Grapes, Raisin, Mixed Green, Mixed Nuts)
CANAPÉ
Trio Mushroom Bruschetta
Classic Smoked Salmon Tarts
Sliced Cheese Turkey Ham Sandwiches
Breaded Sliced Chicken with Sesame Mayo Dressing
Tuna Prawn on Biscuits
RICE
Western Chicken Fried Rice OR Garlic Trio Mushroom Fried Rice
PASTA
Creamy Red Sauce Spaghetti OR Stir Fried Broccoli Trio Mushroom Fusilli
MAIN DISH
Baked Whole Chicken with Mixed Herbs Gravy Sauce
Stir Fried Broccoli & Cauliflower in White Cheesy Sauce
Deep Fried Chicken Wings
Lamb Shoulder with Homemade Mints Sauce OR Braised Lamb Cube with Aroma Mixed Herbs
Deep Fried Seabass with Lemon Mayo Sauce OR Grilled Salmon Fillet with Stir Fried Capsicum
DESSERT
Strawberry Cheese Tart
Mixed Fruits Platter
DRINK
Mixed Fruits Punch
Availability & Rates
Fully booked! All bookings exhausted.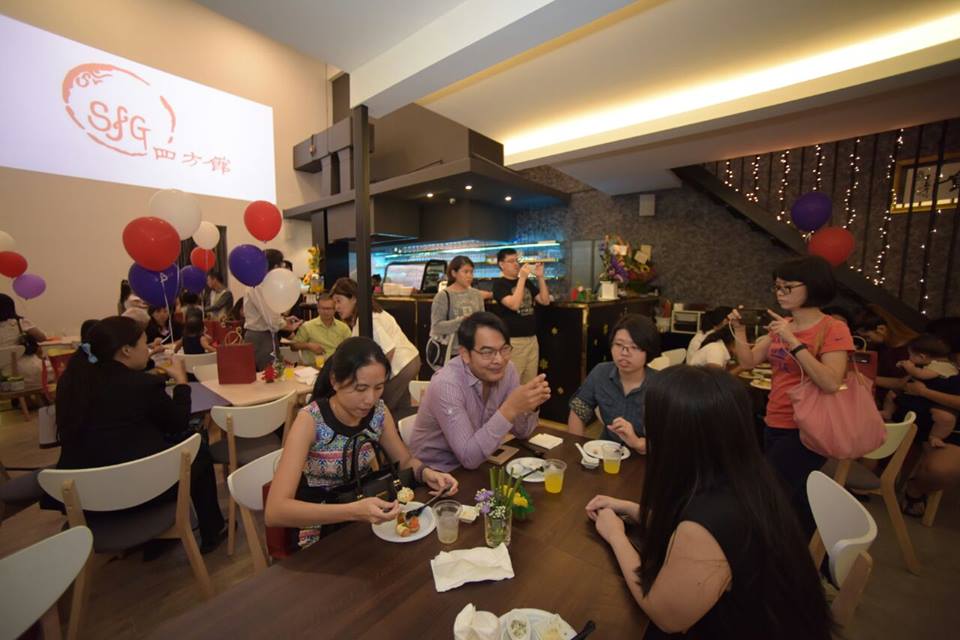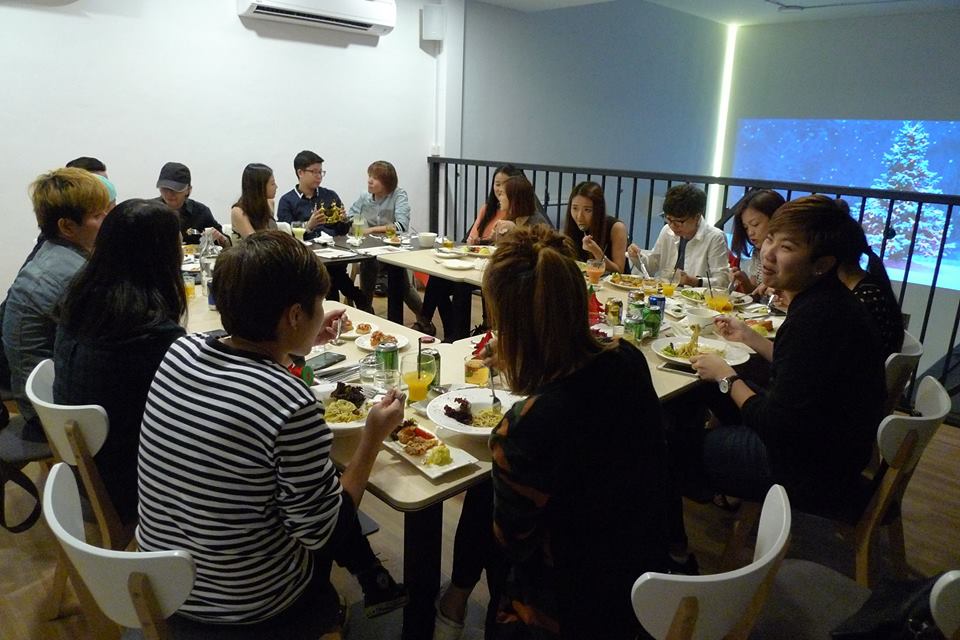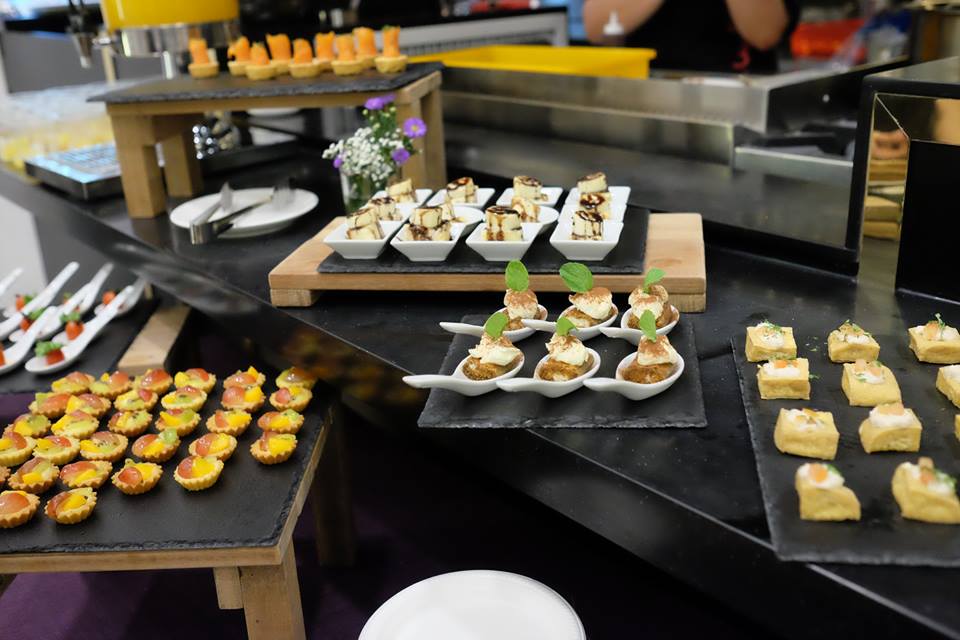 Event Space
The event space at SFG Cafe has a casual but modern feel. There are two levels of spaces, the main dining area on the ground floor and an upper section on the mezzanine floor which could serve as a private dining room for smaller groups. SFG Cafe is equipped with a ceiling mounted projector, video screen, and speakers to provide your event with full audio video facilities as well.
Events
SFG Cafe is suitable for hosting a birthday party, baby shower, full moon party, 100 day party, bridal shower, a graduation party, an office party, a company dinner, gatherings with friends, a product talk, a product launch, a business meeting, or a workshop.. The space here can accommodate up to 60 pax below and another 20 upstairs in the private dining room.
Location
SFG Cafe is located in Kota Damansara's Sunway Nexis building. This area serves as one of the entertainment hub of the Kota Damansara area. Access is via the NKVE and Jalan Surian from Mutiara Damansara. Yes we know, parking in Dataran Sunway can be quite challenging but you should be able to find parking within the basement parking of Sunway Nexis.
Address:

A-GF-09, Sunway Nexis,
1, Jalan PJU 5/1,
Kota Damansara,
47810 Petaling Jaya,
Selangor,
Malaysia
Get A Free Quote